Opportunities are provided to your sons throughout the year for them to gain experience and skills allowing for advancement from Tenderfoot to Eagle Scout.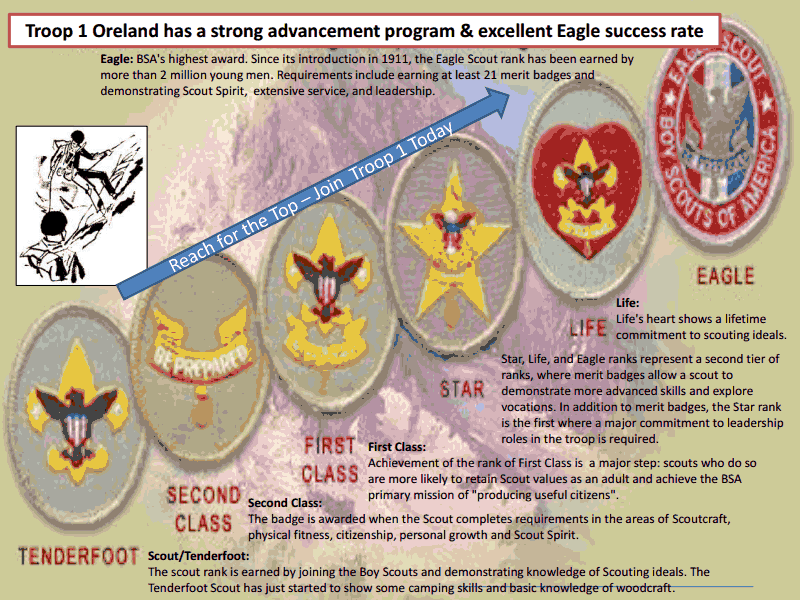 Participation in events/attendance is not mandatory although highly encouraged in order to fully absorb all scouting has to offer.  Scouts progress through the ranks at their own pace, and can participate in camping, backpacking, canoeing, summer camp, and all other activities they choose.
Some Highlights of Troop One Include:
Monday evening troop meetings from

7:30PM – 9:00PM

, September – June
Approximately 22 active Scouts, organized into three patrols (Hawk, Fox and Beaver)
Experienced leadership with Sergio Movsessian, Scoutmaster.  He leads an active troop with 28 adult leaders 19 scouts.
Owners of Hawk Mountain Camp, run by Troop 1 volunteers, with summer camp enrollment fees less than half the cost of other scout summer programs
No popcorn sales required from parents
Over 120 Eagle Scouts graduated
Strong advancement program for younger Scouts and many high adventure trips for older scouts
Troop 1 Oreland originally chartered 4/1/1917 celebrated OUR 104th Anniversary
Active involvement in the community
Guest speakers and presentations
Scouts effectively run the troop, coordinating among themselves and managing details to make things happen.  Scouts are mentored by experienced, trained, screened and qualified adult volunteers.
The following remarks were written by Scouts at the time they advanced to Eagle Scout.
"I was brought to Troop 1 by my friend, and joining was one of the best decisions I ever made. Scouting for me was an excellent experience to learn all about nature, how to tie knots, first aid, and much more. I learned important life skills of how to organize people to work together to complete a task, problem solving, leadership, maturity, and learning first hand by looking up to the fearless adult leaders and the brave boys that came before us. Nothing compares to the valuable life lessons learned through the Boy Scouts. We are dedicated to the ideals of Scouting and strive to 'graduate' young men of high moral character emphasizing the goals of scouting: citizenship training, character development, and personal fitness."
– Chris U.

"I sincerely thank my scout master for everything he has done. He is truly committed to helping new generations of children prepare for their future. I would also like to thank all of the leaders who have come through Troop 1 and helped me as much as they could. I would like to thank all of my friends in the troop. They are the ones who have shaped my scouting experience.  These people have really helped me mature and become the person I am today."
– Phil I.

"I need to thank our Scoutmaster and all the Scouts and Leaders in Oreland Troop 1. They're a great group of guys and without them I would never have had the urge to stay in scouting until I reached the Eagle rank. Finally, I would like to thank my parents who teach me new things every day and always help and support me."
– Drew D.
"I wish to use the experiences I gained from working with the Scouts, both young and old, to continue to live my life to the fullest. After college, I want to become a physician and help improve the lives of many others. I will also be around to pass the knowledge I gained from Scouting to the new Scouts. I really had fun in Scouts and I wish all the best to all the Scouts as they climb the thrilling path to Eagle."
– Terry P.

"I have grown up a lot through my experience with the troop, having many fond memories I will cherish forever."
– Matt M.

Connor has had a wonderful Scouting experience with the troop and intends to remain active. His favorite troop activities have been camping at Hawk Mountain, trying to start campfires and competing in T-Day at Summer Camp. Connor's favorite part of Scouting has been learning all that he has from adult leaders and older Scouts and in turn, teaching younger Scouts. He has truly enjoyed being a part of such a wonderful organization. Wherever life takes him, Connor is sure to remember the principles Scouting has taught him.
– Connor M.
Forms and Info. for Parents:
Factsheet (a quick and easy highlight of all things Troop 1)